About Us
Runner's World was established in 1976, and sells a complete range of athletic footwear, apparel and accessories for professional and amateur athletes and sporting organisations.
To complement its products and service, the founder of Runner's World, Australian marathon runner Neil Ryan, provides information and advice on all aspects of athletics including training schedules, injury management and recommendations, and contacts for injury treatment.
Neil happily shares the practical, worldwide experience he has gained during forty-plus years of athletics as an official State team manager, coach and competitor. He has competed through Junior to Senior levels, and has represented Australia internationally. Neil still runs events both on and off the track, as a veteran and life member of the Richmond Harriers.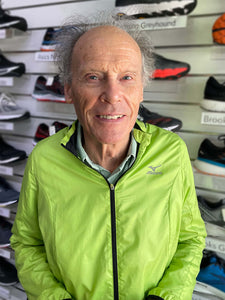 Neil Ryan
Neil has been involved in athletics since 1962, joined Richmond Harriers in 1964 and from 1967 was an active member of the Victorian Marathon Club (VMC) as both an athlete and club administrator.

Neil showed talent as a distance runner from an early age and went on to regularly place in Australian and Victorian Marathon Championships in the 1960's as well as placing in multiple international races over various distances. Neil's proudest achievements include his 2:17:59 Marathon and finishing second to Ron Clarke in the Zatopek 10km.

As a member of Richmond Harriers for nearly 60 years, Neil has been involved in most areas of club activity including as a competitive athlete, club record holder, club champion, athletics captain and leading coach and has served on the committee as Treasurer and Public Officer. He also served as President and Treasurer of the Victorian Marathon Club multiple times over his 20-year period, and is a Life Member of both Richmond Harriers and the Victorian Marathon Club.
In 2018 Neil was made a Life Member of Athletics Victoria for his services to the athletics community over the years.
Today Neil spends much of his spare time coaching athletes from the Richmond Harriers, as detailed in Joji's years of distance running, coached by Neil Ryan.